Testimonials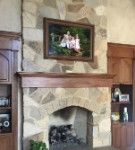 The Birenbaum Family
"Our experience with Strauss Peyton was nothing short of amazing, as it has always been. This year we decided to do our first complete family portrait. We loved it so much it is now at the centerpiece of our home, hanging above our fireplace. We have taken portraits of each of our three children when they were two years old and they are by far our favorite pictures of them. Colin does such an amazing job, always making our selection process of what photo we ultimately choose extremely difficult. He is also so quick at getting that perfect shot, making it so easy on us and our young children. The office makes scheduling a breeze and their backyard is such a beautiful setting for photos. For any family considering creating an experience, a memory, and a portrait that will last a lifetime, Strauss Peyton is your best solution!"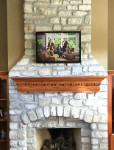 The Swaminathan Family
"I just wanted to thank the both of you for our beautiful family portraits. When I went into this, I really thought that the pictures would be like any other photographer. I was wrong! They far exceeded my expectations. Colin took care of everything from the beginning to end. I completely underestimated the value of our Strauss Peyton portraits. Colin's personal touch can be seen in each of our portraits. This was the best investment for our family. Definitely well worth it!"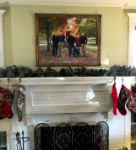 The Grady Family
"We love our family portraits from Strauss Peyton. Bobbi and Colin were amazing to work with during the entire process from the initial consultation all the way until the final family portrait was framed and hung on the wall. Bobbi was so organized and provided so many helpful recommendations and insights along the way and Colin took so many amazing photos and was able to capture our boys' personalities in his work. Thanks so much."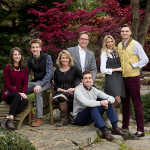 The Boland Family
Our family portrait is hanging above the fireplace in our hearth room and is the focal point of the room. Every time I look at it, it brings me so much joy! It has always been a pleasure to work with the people of Strauss Peyton. They are professional with a keen eye for the perfect pose. Always friendly, they know how to make family photo shoots fun! They have a great reputation for customer satisfaction.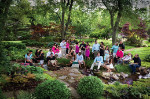 The Gallegos Family
"My family experienced several milestones this year and we wanted to capture our most recent special occassion with an interactive portrait. Colin and Bobbi guided our party of 26 through a most enjoyable and creative photo shoot, making our vision a reality."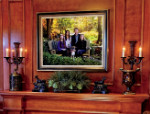 The Nestor Family
"As far as what I have to say about your business...We thoroughly enjoyed working with you both! Y'all were always on time. You always did things when you said you would. Colin was great about coming over and helping us decide where to put our portraits. When he came back to install the portraits, it was also an easy process. He hung our 4 portraits, put the misplaced art in the basement, and was gone in less than an hour. We love the way everything turned out!"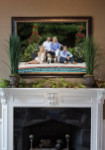 The Kohler Family
'Working with Strauss Peyton was an absolute pleasure! During just one visit we shot our daughters senior photo, our older son's portrait and our family portrait. Colin showed up with lots of energy, his style was welcoming to all of us involved, he even had a squeaky toy for our Beagle. He assessed things quickly and chose the perfect backgrounds. He didn't settle for anything less than the best, he even used some classic cars we had in the garage for a fun backdrop. Bobbi's expertise in narrowing down the choices and helping choose the perfect frames made finishing the process a breeze. These two teamed up together knowing full well that this is a family's special moment. Now as our kid's go off to college these quality portraits will be forever with us so we can look back on these fond memories."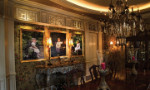 The Hercules Family
"We've been working with Strauss Peyton since 1993 when Colin took our oldest son's two year portrait. He has now graduated from college and we love that first portrait even more. We've also had our two daughters photographed at two years, as well as portraits before all three left for college, and several family portraits. Colin and Bobbi have helped us through the entire process each time, including clothing, sitting location, portrait size and even hanging the finished portrait in our home. They have made it an easy and enjoyable experience each time. These portraits are cherished memories that could never be replaced."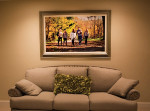 The Franzen Family
"Strauss Peyton has photographed my four children since they were little and now that they are in high school and college each portrait I have means more to me each year. Colin is great with kids, pets and makes it so easy I would never think of going any place else. He always captures exactly what I am hoping for. I love having these portraits hanging throughout my home."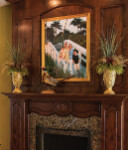 The Fox Family
"We absolutely love our two Strauss Peyton portraits. Colin is so enjoyable to work with and does an excellent job of capturing the essence of our life and family."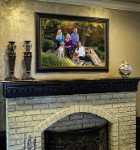 The Ehlert Family
"Thanks so much for making our experience with Strauss Peyton such a memorable one! The funny story about getting this done is that I always wanted to have a portrait done by Strauss Peyton when my kids were little. But, as life would be, other things got in the way. So fast forward, and here we are finally with that portrait. It makes me so happy to have this hanging in my home."